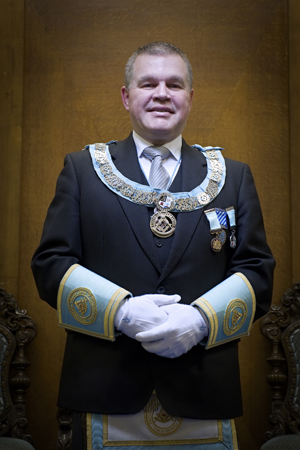 The Provincial Grand Master
In my role as Provincial Grand Master, I welcome you to our website.
The Masonic Province of Tyrone and Fermanagh is part of the Grand Lodge of Ireland and corresponds geographically with the two Ulster counties of the same name.
Further information is contained in the section "About Us" and in the pages charting our history.
I am confident that as our website grows and develops it will become a place of interest for Masons everywhere.
R W Bro Johnny Woods PGM
Next Stated Quarterly Communication
The Next Stated Quarterly Communication of the Right Worshipful Provincial Grand Lodge of Tyrone and Fermanagh will be held in Strabane Presbyterian Church Hall Derry Road BT82 8DY, Wednesday 28th September 2022 at 7.30pm sharp.
Malcolm McQueen
Provincial Grand Secretary
NB. Board of General Purposes will be held at 6.45 p.m.
News
St Andrews 944 Moy, present &pound500 Cheque to our Grand Masters Ukraine Appeal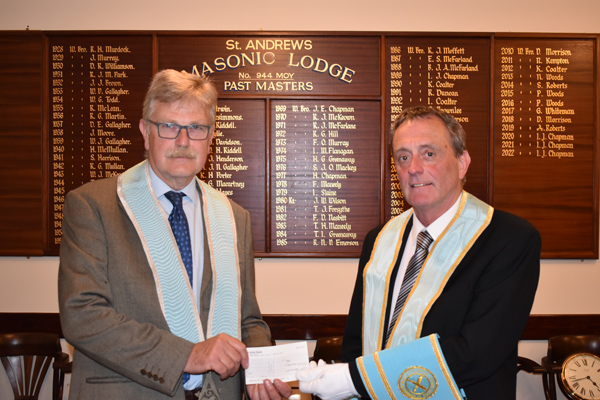 WM WBro Ian Chapman presents &pound500 cheque to our MW Grand Masters Ukraine Appeal to VWBro Malcom McQueen PGL Secretary on Monday 13th June 2022. The money raised was from within St Andrews Lodge membership as a direct response to the Grand Lodge of Ireland request in March 2022. ...for more
---
Concord 332 Long Service Awards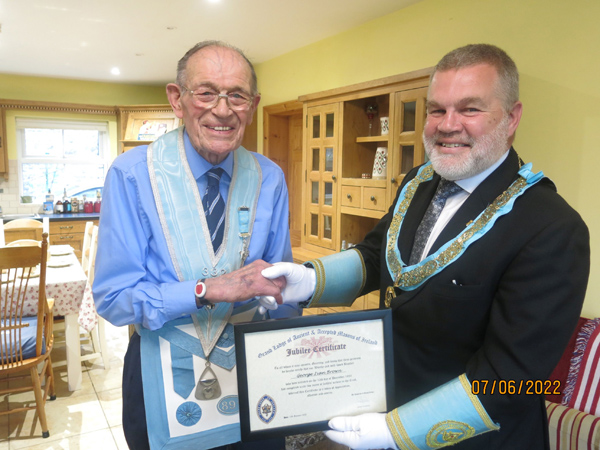 WBro Ivan Brown has the distinction of gaining his 65 year certificate. Unfortunately WBro Brown was unable to attend the meeting at which the presentation had been arranged. For this reason the Provincial Grand Master, RWB Johnny Woods, visited WBro Ivan at home ...for more
---
ST Andrews 944 Moy Presentation of 60 Year certs and 50 year Certs and Jewels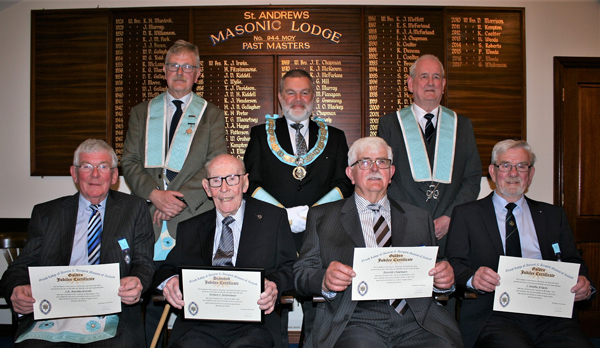 The 11th April 2022 saw another milestone reached in the history of ST Andrews 944 Moy with the attendance of the PGM RWBro. J Woods who presented 60 year certs and 50 Year certs and jewels to five long serving brethren who&acutes service to the masonic order totalled more than 275 years ...for more
---
Phoenix ML No 836 celebrates its centenary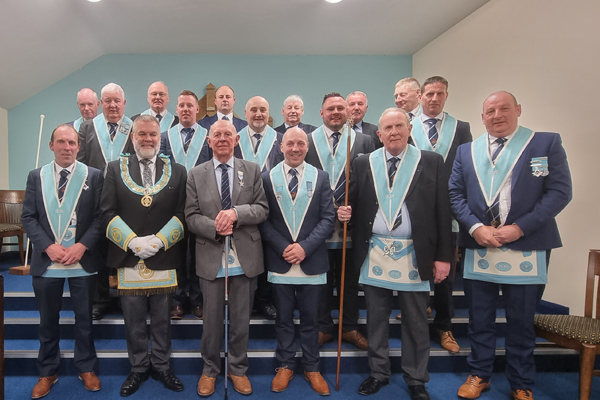 On Wednesday 6th April Phoenix ML No 836 celebrated its centenary, just one year late due the suspension of Masonic activities imposed by the coronavirus pandemic. A plaque to commemorate the foundation the Lodge in 1921 was unveiled by Provincial Grand Master, RWBro Johnny Woods. ...for more
---
Victory Masonic Lodge 689 Omagh supporting Alzheimer's Society and Ballymena Bears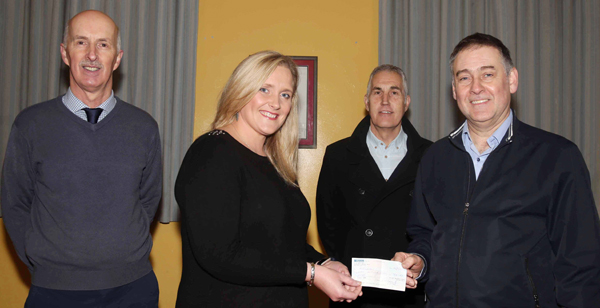 Pictured are brethren of Victory Masonic Lodge 689 Omagh presenting a cheque for £750 to Heather Gott from the Alzheimer's Society. Included in the picture, from left to right, are RW Bro Jim Moore, Secretary, W Bro David McConnell, Director of Ceremonies, and W Bro William Clements, Worshipful Master...for more
---