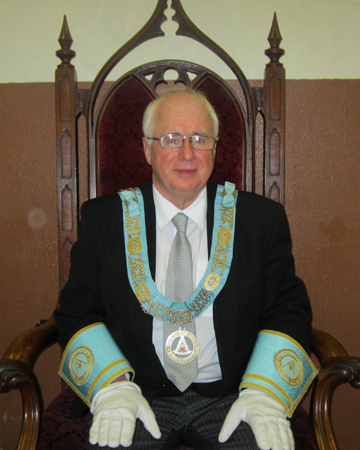 The Provincial Grand Master
In my role as Provincial Grand Master, I welcome you to our website.
The Masonic Province of Tyrone and Fermanagh is part of the Grand Lodge of Ireland and corresponds geographically with the two Ulster counties of the same name.
Further information is contained in the section "About Us" and in the pages charting our history.
I am confident that as our website grows and develops it will become a place of interest for Masons everywhere.
R W Bro Maurice Lee PGM
Next Stated Quarterly Communication
The next Stated Quarterly Communication of the Right Worshipful Provincial Grand Lodge of Tyrone and Fermanagh will be held in the Rowan Memorial Hall, Omagh on Wednesday 22nd November 2017 at 3:00pm sharp.
VWBro. J Woods,
Provincial Grand Secretary.
Board of General Purposes will meet at 2:15pm
News
Kipling Newporton ML 315: Presentation of 50 Year jewel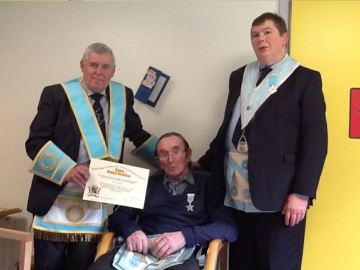 On Saturday, 26th August two brethren from Kipling Newporton ML No 315 travelled to Scotland to present a 50 year jewel to Bro James John Smith. The two brethren who make the trip were W Bro James Elliott [Almoner] and W Bro Stanley McMullan [Lodge Secretary]. They took with them the warm good wishes and congratulations of the Provincial Grand Master R W Bro Maurice Lee and brethren of the Lodge...for more
---
Cycle and Walk for Mo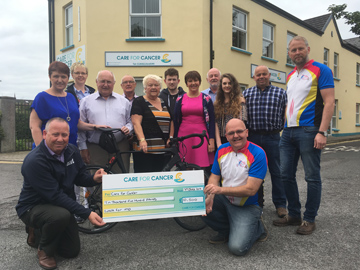 On 20th May 2017 W Bro Richard Campbell supported by the brethren of ML 994 and members of the Campbell Family organised a fundraising event for "Care for Cancer". Promoted as "Cycle and walk for Mo" over 160 people took part and together raised the magnificent sum of £10,500.00. This was achieved by a sponsored 30 mile cycle run through the Sperrins taking in Gortin, Plumbridge, Newtownstewart and Baronscourt...for more
---
Sponsored Wheelchair Push raises £6880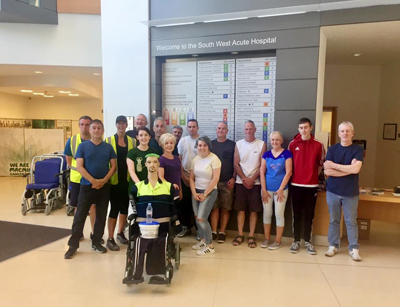 W.Bro David McConnell, Victory Masonic Lodge 689 Omagh, and members of his family have completed a Sponsored Wheelchair Push from the Tyrone County Hospital, Omagh, to the South West Acute Hospital, Enniskillen, on Saturday, 17th June, a distance of approximately 26 miles. The walk was held in good weather with brilliant sunshine for most of the day...for more
---
Pomeroy 836 Charity Golf Competition for "Care for Cancer"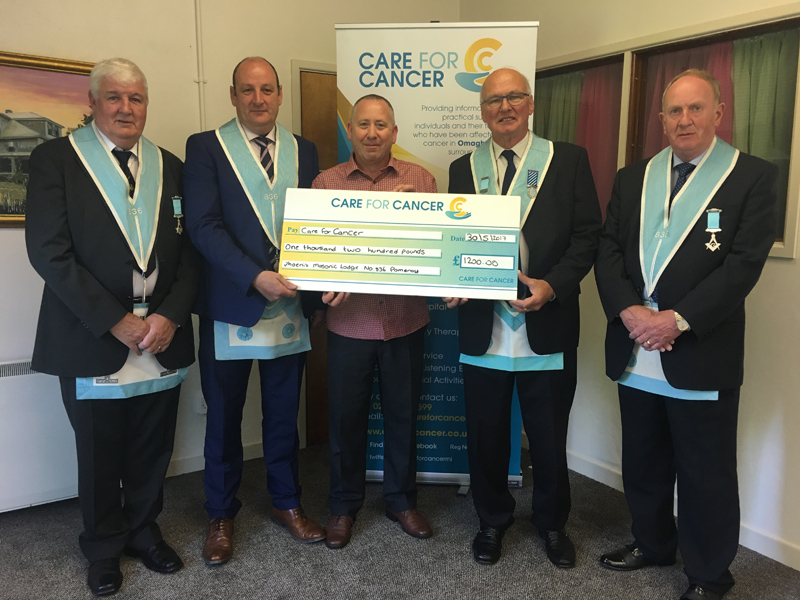 Brethren of Pomeroy ML No 836 held a charity golf competition in Omagh Golf Club on Friday 28th April which raised £1,200.00 for "Care for Cancer". Their cheque was presented to the charity at its centre in Omagh on 30th May 2107...for more
---
"Casualty" comes to Newtownstewart 547!!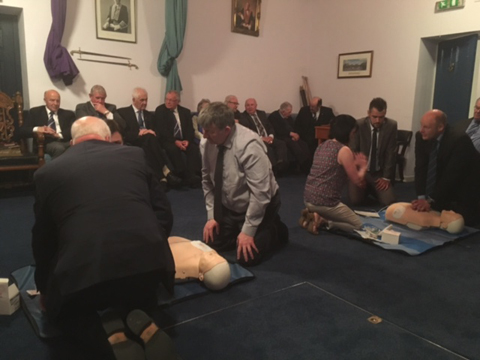 Newtownstewart Masonic Lodge No. 547 hosted a very successful First Aid training event immediately following their Stated Communication on Thursday 18th May 2017.The training session was organised in conjunction with the Provincial Grand Lodge Physician, W. Bro. Dr. Ted Burke, who enlisted the help of Sister Flo Harper and her team from the Cardiac Assessment Unit of the Tyrone County Hospital Omagh...for more
---