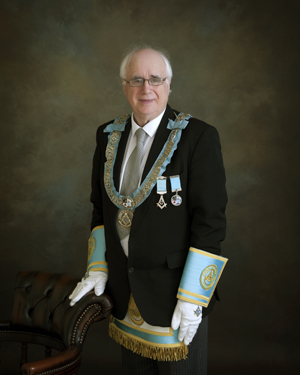 The Provincial Grand Master
In my role as Provincial Grand Master, I welcome you to our website.
The Masonic Province of Tyrone and Fermanagh is part of the Grand Lodge of Ireland and corresponds geographically with the two Ulster counties of the same name.
Further information is contained in the section "About Us" and in the pages charting our history.
I am confident that as our website grows and develops it will become a place of interest for Masons everywhere.
R W Bro Maurice Lee PGM
Next Stated Quarterly Communication
The next Stated Quarterly Communication of the Right Worshipful Provincial Grand Lodge of Tyrone and Fermanagh will be held in the Killylea Parish Church Hall, Killylea Co Armagh on Wednesday 25th April 2018 at 7:30pm sharp.
VWBro. J Woods,
Provincial Grand Secretary.
Board of General Purposes will meet at 6:45pm
News
Presentation of 50 Year Jewel to WBro. Cecil Stevenson.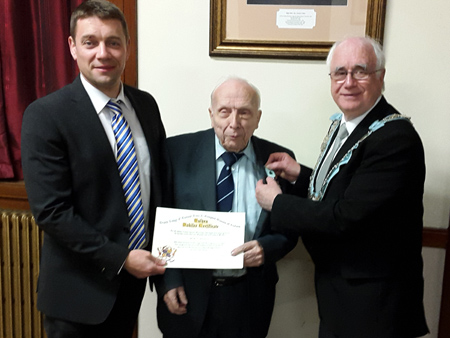 On Friday 20th April 2018 one of Lodge 586 oldest and long serving brethren was presented with his 50 year Jewel. WBro. Cecil Stevenson has been a stalwart to the Lodge since his Initiation on 19th April 1968. He served as Secretary and has fulfilled many temporary officers roles over the years...for more
---
Cheque Presentations by True Friendship Lodge 579, Dungannon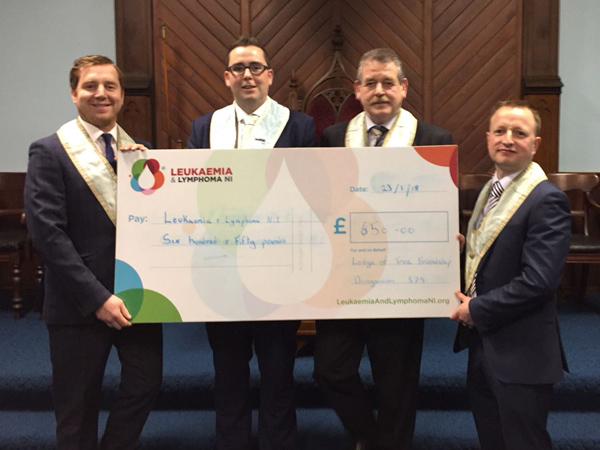 True Friendship Lodge 579 organized and ran a very successful Night at the Races evening at which they raised £1950 for some very worthy charities. Bro Barry Williamson, a member of the Lodge, received a cheque for £650 for Leukemia & Lymphoma NI. Bro Barry Williamson, who lost his wife aged 31 to lymphoma almost two years ago, has raised over £107,000 for this Northern Ireland Charity...for more
Events
Charity pool competition
The Omagh "wans" .V. the Broughshane "yins"
Royal Hotel, Cookstown
(Proceeds in aid of the Air Ambulance Service)
To be held on Sat 23rd June 2018 at noon
If interested contact:-
Brian Vincent(Omagh wans) -
07709 124953
Richard Nicholl (Broughshane yins) -
07730 654671
Please support this worth while cause, everyone welcome!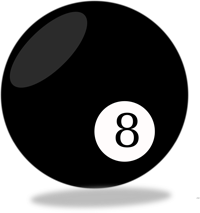 ---
RWBro. Frank Arnold PDGM celebrates his birthday.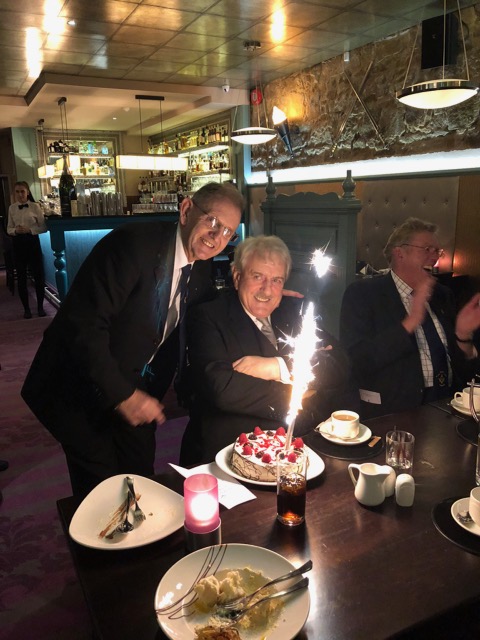 Frank enjoying his birthday cake from Lodge 122 - presenting the cake is Richard Scott on behalf of the members of St Patrick's Lodge 122...for more
---
WBro. Ronnie Balfour receives his 50 Year Jewel and Certificate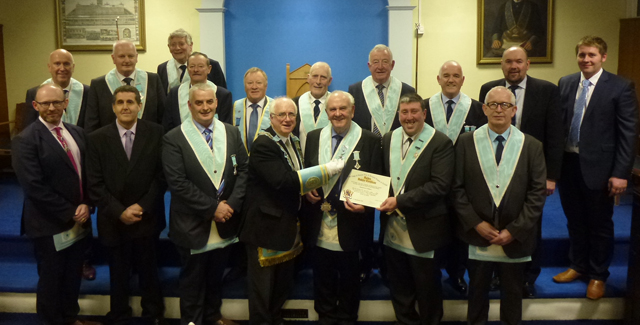 At the Installation of Officers Communication of St John's Ederney Lodge 819 held on 25th January 2018, the Brethren had the great pleasure of presenting a 50 Year Jewel to Worshipful Brother Ronnie Balfour. Wor Bro Ronald George Balfour was Initiated into St John's Ederney 819 on 12th June 1961. He received his Fellow Craft Degree on the 28th September 1961 & finally received his Master Mason Degree on the 26th October 1961...for more
---